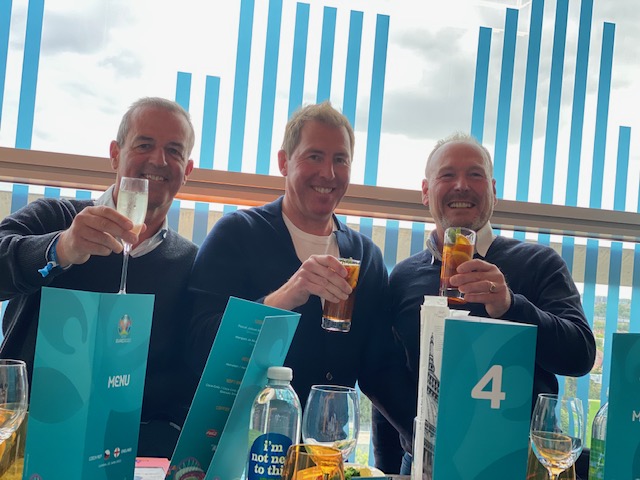 Spending Time at a Sustainable Wembley stadium
8th July 2021
The last few weeks at the DMA offices have passed while most of us have been trying not to feel too green with envy. Our MD, Charlie, has been lucky enough to receive invitations to several of England's Euro 2020 games at Wembley – unfortunately he didn't also get a handful of plus-ones!
Charlie has so far been to the Czechoslovakia and Germany games, and as we write this he's off to watch England face Denmark – meaning he's actually been there in person while England played in a major tournament semi-final! Pretty exciting stuff. The good news is that every game he has attended has been won by England … so we're beginning to think he's the side's lucky mascot.
While he's down at Wembley, Charlie's also been finding time to keep an eye out for Veolia, one of our long-term waste management clients who have been doing fantastic work for the stadium. Some years ago now, Wembley adopted the goal of becoming one of the most environmentally friendly venues in the world, and it achieved the Carbon Trust Standard for reducing their carbon emissions in 2014.
This doesn't happen without work, of course, and Veolia have been instrumental in helping the stadium achieve its goals through smarter waste management. From better cleaning and recycling to the supply of greener vehicles and manual and mechanical litter-pickers, the stadium has massively benefited from Veolia's expertise.
Everything from packaging to even food waste is now recyclable at Wembley. Of course, none of this would have been possible without the great people that power Veolia's service delivery … and at DMA we've long been part of the firm's recruitment strategy, sourcing great candidates at every level of the business to help the company, as well as its services, achieve sustainability.
Banner projects like this are a real source of pride at both the firms that undertake them and, in DMA's case at least, the recruitment companies that help them achieve their aims. We're not sure waste management is at the forefront of Charlie's mind when the England goals are going in … but we are 100% certain that, in office hours, everyone at DMA always treats our clients' goals and achievements as if they are their own.
Now … Let's have another one!